October 10, 2013 | by Alexis Coe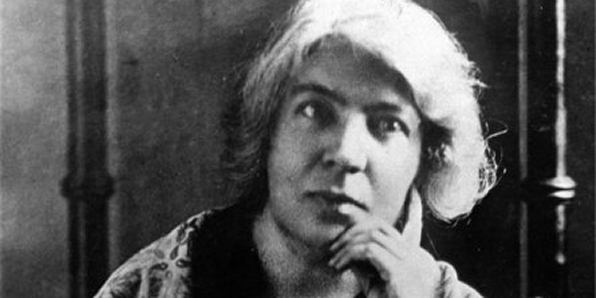 The morning Grazia Deledda won the 1926 Nobel Prize in Literature was like any other. Or rather, she attempted to make that day in Rome indistinguishable from the last. She simply exclaimed Già! (Already!), and fled to her office. She was protective of her daily writing routine, already threatened by sharing a crowded house with her husband, adult sons, and niece. Deledda maintained the same schedule seven days a week: a late breakfast, a couple of hours of reading, lunch followed by la pausa (a nap), and, finally, a few hours of writing in the afternoon. By dinner, she had four handwritten pages.
But there were expectations of the first Italian women to receive the prize, and she understood what was at stake. It had been a year since Benito Mussolini dropped the charade of constitutional rule in favor of Fascism. Deledda had never been to northern Europe, but Il Duce made it known that, upon her return from Stockholm, he expected her to attend an official state ceremony in her honor. Mussolini, who had imprisoned several of her friends and many countrymen, wished to give her a portrait of himself, signed "with profound admiration."
And so the writer allowed throngs of journalists and photographers and notable well-wishers into her home the next day. By all accounts, the diminutive writer was calm and graciouss, or at least tolerant of the fuss, which is more than can be said for Checcha. Her beloved pet crow was visibly irritated by the commotion, and thrashed wildly above the crowd, searching for an empty room. After an open window sufficed, Deledda hurried everyone out, insisting, "If Checcha has had enough, so have I."  
She was a fatalist, to be sure, but by the time Deledda received the prize, at fifty-six years old, she understood attention made people vulnerable, and had the potential to devastate. People who dealt in extremes, whether by volition or chance, made it into her stories, and from the very beginning, her stories had a way of getting her in trouble.
Deledda (1871–1936) grew up in Sardinia, the second largest island in the Mediterranean, although she would be a teenager before she rode a horse all the way up to Monte Bardia, a peak from which she could finally glimpse the sea. Her birth coincided with the first anniversary of the unification of Italy, but she was very much of Nuoro, what she called "a bronze-age village." Her first language was sardo logudorese, the spoken idiom of Sardinia; Italian, the language she would write in, was a foreign one. Read More »