What We're Loving: Ackerley, Reichl, Loy
March 1, 2013 | by The Paris Review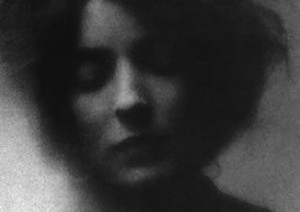 There are moods in which even a used bookstore can defeat you, when you can't imagine why anyone ever bothered, when every first sentence is an effort and a rebuke. Next time you find yourself in that mood, look under A for Ackerley (J. R.). His memoir My Father and Myself is a masterpiece of calm self-hatred. My Dog Tulip is the unforgettable true story of how he gave up on human beings and fell in love with a German shepherd. But the book I needed, and found, the other night is Ackerley's one novel, We Think the World of You. This too is a dog book. Without having yet read the introduction (I'm a few pages from the end), I suspect it too is autobiographical. Set in London just after the war, it concerns a middle-aged gay man, desperately in love with a young prison inmate, who transfers his overbearing affection to the man's dog, Evie. Ackerley was, by all accounts, including his, an unpleasant guy. The magic is how clearly he sees himself, with a clarity almost amounting to forgiveness. He is also very funny. Four chapters in, behind two pints at a quiet bar, I felt ready to face the world. —Lorin Stein
 I still mourn the loss of Gourmet—the exquisite photography, like eighteenth-century still lifes; the insane, days-long dinners that I never intended to prepare—but I'm grateful to have been directed to Ruth Reichl's Twitter feed. Her entries are haikus of deliciousness: "Gray. Rain coming. Curled up with the cat, a book, and a comforting bowl of lemon rice soup. Edible sunshine." "So cold! Tiny tug shoves a big black boat up the river. Bowl of butter-toasted oatmeal. Almonds. Apricots. Brown sugar. Heavy cream. Warmer." "Cold. Sunny. Blue Tiepolo sky, dappled with clouds. Fluffy pancakes. Lace-edged fried eggs from Barry's hens. Smoky bacon. Maple syrup. Yes!" —Nicole Rudick
 It seems that Volta footwear has developed a formula for art: an exotic setting, an artistic medium, and a new shoe. Since 2010 they have been sending artists on expeditions for their X-Travelling Series, a collection of photography, film, writing, and sound-clips, taken on footwear-sponsored trips around the world. And though it seems like a bizarre coupling, number fourteen of the X-Travelling Series, Travels in Central America, actually marks the second collaboration of Volta and The Milan Review.
Like we've said before, if you're not already reading The Milan Review, you should be. Issue number three, named The Milan Review of Adultery, is enough to sate any winter wanderlust. I was drawn to it because of the colorful, Mexican serape–like cover design, and found that it consists entirely of Clancy Martin's Travels in Central America: A Novella, which tells the story of married men and women sleeping with those to whom they are not married. While there's certainly an erotic aspect, this novella is not to be confused with a romance. Martin pegs infidelity more as an unfortunate side effect of marriage—and perhaps of alcoholism. Like cocaine, he says: "rarely pleasurable, but try quitting." It's escapism, and that's what blends the novella, the review, and the series so seamlessly. —Matthew Smith
I recently acquired an impeccable copy of Virgins Plus Curtains, poems by Mina Loy. The Press of the Good Mountain printed only of eighty copies of this three-poem collection, which also happens to have one of my favorite titles of all time. It is evident that Loy's proximity to Italian futurism and dadaism had an effect on her writing, but what is far more interesting than the form of these poems is her thinly veiled commentary on the men who were preaching these ideologies: "But you who make more noise than any man / in the world when you clear your throat."
Digs like this carry far more weight when you remember Loy was romantically involved with both Filippo Marinetti and Arthur Cravan. I was constantly reminded of the potboiler All the King's Horses, which Guy Debord challenged his first wife, Michèle Bernstein, to write. A book that could easily be written off as a gossipy teen novel has proved with time to be the most intimate depiction of the elusive Debord's daily life. Both Loy and Bernstein's perspectives provide essential humanizing, reminding us that these were "just" men—but also that they were just the women capable of slyly exposing these great ideologues. —Hailey Gates
 The Poetry Foundation is currently showcasing a very readable profile of Edna St. Vincent Millay that reminds us just what a celebrity the poet was in her day. Thanks to her controversial personal views, her wedding was covered by no fewer than five New York newspapers, three on the front page. Writers may have no hope of that these days, but I have to wonder if that's in part because they simply aren't as publicly fascinating. After all, she had a successful and open marriage with a Dutch importer who allowed and encouraged her to continue her affairs on the side; that's a marriage we want to know about. Her unconventional approach to domestic stability might be summed up thusly:
Was it for this I uttered prayers,
And sobbed and cursed and kicked the stairs,
That now, domestic as a plate,
I should retire at half-past eight?
—Diksha Basu