Subscribe Now to Get a Digital Discount!
September 28, 2011 | by Sadie Stein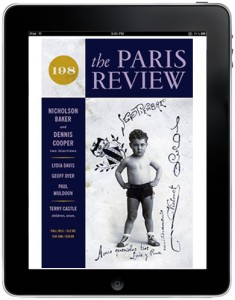 Just a friendly reminder: through Friday, September 30, when you buy or renew a print subscription to The Paris Review, you can get a digital subscription for only $10. That's right: a full year of fiction, poetry, and interviews on iPad, iPhone, Android, or online, as well as the hard copy you know and love.
(When you buy a subscription through our store, we'll send you the discount code.)