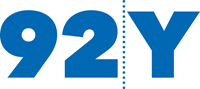 Over the years, 92Y's Unterberg Poetry Center has teamed with The Paris Review to present numerous onstage conversations. These talks—with Chinua Achebe, Norman Mailer, Iris Murdoch, Günter Grass, Tony Kushner, Salman Rushdie, Czesław Miłosz, Arthur Miller, and many others—often led to the Writers-at-Work interviews that appeared in the magazine. In a new collaboration made possible by a generous gift in memory of Christopher Lightfoot Walker, a longtime friend of the Poetry Center and The Paris Review, we are now sharing the recordings of these conversations on each of our websites.
-------------------------------------------------------------------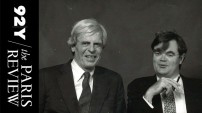 Garrison Keillor
November 28, 1994
"When some people sit down to write humor, they adopt a giddy tone of voice, a whooping or comic warble, so that the reader will know it's funny. It's the writing equivalent of a clown suit. This does not wear well. Humor needs to come in under cover of darkness, in disguise, and surprise people. You don't want to get that
gdoing, gdoing, gdoing
sound in your writing. It makes the reader feel sorry for you. . . "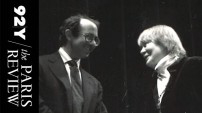 Iris Murdoch
February 22, 1990
"To write a good book you have to have certain qualities. Great art is connected with courage and truthfulness. There is a conception of truth, a lack of illusion, an ability to overcome selfish obsessions, which goes with good art, and the artist has got to have that particular sort of moral stamina. Good art, whatever its style, has qualities of hardness, firmness, realism, clarity, detachment, justice, truth. It is the work of a free, unfettered, uncorrupted imagination. . ."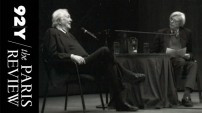 William Styron
December 8, 1997
"Not long ago I received in the mail a doctoral thesis entitled '
Sophie's Choice
: A Jungian Perspective,' which I sat down to read. It was quite a long document. In the first paragraph it said, In this thesis my point of reference throughout will be the Alan J. Pakula movie of
Sophie's Choice
. There was a footnote, which I swear to you said, Where the movie is obscure I will refer to William Styron's novel for clarification. This idiocy laid a pall over my life for a dark brief time because it brought back all these bugaboos we have about the written word. . ."
-------------------------------------------------------------------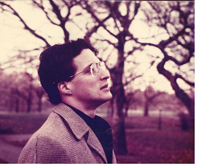 Christopher Lightfoot Walker
(1954-2012) served as poster director, prints director and advisory editor of
The Paris Review
. He also volunteered at the 92nd Street Y's Unterberg Poetry Center, making transcriptions, which were models of their kind, of audio recordings of live literary events. Chris was born in New York City, attended the Buckley School, then went west to Fountain Valley School and back east to Hampshire College. He was engaged in a number of entrepreneurial efforts (some in collaboration with his father, Angus Lightfoot Walker, longtime chairman of the City Investing Company), when, at the age of 31, he suffered a cerebral hemorrhage. He wore his adversity lightly, retaining, in addition to his considerable wits, his sense of humor and sense of fun. Against the odds he remained a person on whom no delightful thing was ever lost. Chris was always grateful for the refuge he was able to find in the work provided by the Y.